I had a great Sunday re-LAXing after all the field trip activity. Sore with blisters and my knee hurts. Saturday night I got to talk to Mom on the phone (HI MOM) for which I will be recharging Eric's phone card asap.
I took the train down from Rondebosch to the City Center. The train station at City Center is kind of hectic but it was quieter on Sunday than last time I went there. I bought a first class ticket (RT R11) because people warn me never to get in the 3rd class car. There is no 2nd class. I couldn't tell which car was which so I just followed some people who looked kind of rich. Downtown, the marketplace around the train station itself was cleaning up (noonish). This is much more flea-market like with some used junk but mostly apparently stolen truckloads of cheap vinyl purses and knock off athletic shoes ("tackies"). Lots of fruit and produce too.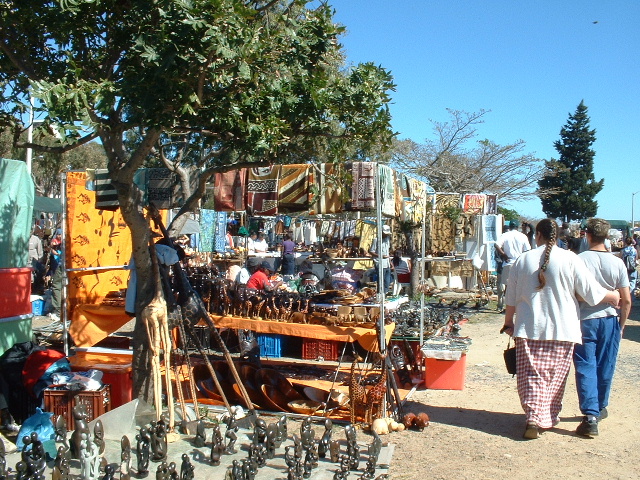 I cruised around the very quiet Sunday down town and finally sort of dead-ended between Lion's Head and Signal Hill, just near the
cable car takeoff to go to the top of Table Mountain
. The Backpackers' Hostel there told me to stroll back down to the Green Point Market. Which I did. I've lifted these pictures off other people's websites because I don't want to tip anyone off to any little gifties they might be getting. Also although I mustered the courage to carry my camera around all day, I took no pictures. Because there were other Americans there taking pictures, and I gotta say, they were total a**holes. Surprise surprise. Anyway after this trip, no more gifties! I am a very bad bargainer. I was told to shoot for 50% of the asking price for everything. But when the seller says, "R250!" and I say, in a shocked voice, "No one would pay more than R100 for that!" and he says "OK R100." then i know i am an idiot tourist and I've been HAD! even though everything is an incredible bargain relative to the human labor and artistry involved - I know and he knows that I paid a lot more than I had to so I feel like a putz. Strange confusing feeling to feel exploitive and ripped off at the same time. In order to prevent this confusing feeling from ever returning, I think I will avoid tourist craft marketplaces FOREVERMORE unless somebody wants a pretty beaded animal thing or a protea made of galvanized wire or a giraffe carved out of a piece of an endangered rain forest tree that used to host an endangered bird's nest before I arrived to create tourist demand for that giraffe.... oh never mind.
I cruised back to the downtown station in order to make the train with plenty of time before twilight. It runs every 50min on Sundays and Holidays and much more often the rest of the week. I was buying a pie in the station (ok it was peri peri chicken. that's a sweet chili type sauce, pretty hot.) and a bleary eyed kid asked me for change for food. Somebody warned me already about glue-sniffing kids so I offered her a pie instead. She took it. That made me happy. But then I looked around the train station and saw lots more bleary-eyed kids. Don't know if they were hungry or high or just dirt poor and sad but they were all watching me! More confusing feelings.
I watched out the window on the train as we climbed the hill back to Rondebosch. At the Woodstock station a man ran by clutching a large purse. He was young and fast. Some security guards ran up a moment later but were not in shape and the guy was clearly gone. Six of them jumped into my train car and rode to the Observatory stop - talking and laughing (with clicks) into their walky talkies. All in a typical day I guess.
To finish off -
I had dinner in Obz tonight with the grad students - went to this awesome African place for beers and roti with 3 vegetable curries. A pretty nice dinner. Expensive by CT standards I think - R50/person - $7. I finally looked at my grocery bills and realized that if breakfast and lunch are costing me on average $1 for breakfast and $1 or $2 for lunch, eating cheap food on campus, I can't beat that with grocery shopping if I'm going to eat healthy. I could beat it by living on mealies, which is what people do if they can't come up with $5/day for food. But when there's a kick-butt curry stand (all vegan & hilal!) right outside the geology building - massive tasty lunch for R12. Healthy too.
This woman has the
Best Cape Town Travel Photos
, particularly in the Kirstenbosch Gardens - on her flicker page (look at her pages 12-16). All the flowers everywhere remind me of Grammy and how much she likes all the flowers in California. So many of them are native to South Africa - the bottle brush trees, the iceplant, the birds of paradise, agapanthus.
ok now back to the lab.... I've only graded 3 of the 12 maps. I am soooooo slow.